We are honored and excited to be working with Julie Case and her team at Ultimate Canine Training LLC.
Julie Case is a certified master dog trainer to offer you all levels of dog training from family companion to therapy & service dogs.
There is a large need for service and therapy dogs that are allergy & asthma friendly and low to no shedding. We are now offering English labs in addition to the labradoodles. Because of this need, we at Meadow Park have teamed up with Julie Case, owner of Ultimate Canine Training, a professional Service Dog Trainer! With a privately trained dog you can work directly with Julie Case, the trainer, and Meadow Park and have your puppy trained in a much shorter period of time.
Unlike other service dog organizations our wait list is much shorter.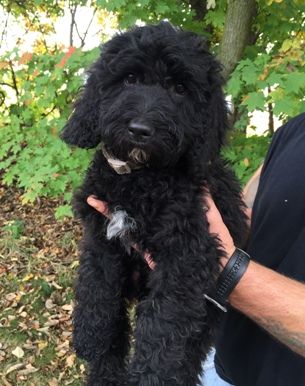 Click on the picture below to watch Lani 8 months old with her trainer Julie. She is an example of the advanced family companion training.
Companion Dog Training
This is training for a family companion dog (family pet). This course will take your puppy through many different phases of learning: socialization, potty training, basic obedience and manners. The puppy will remain with Julie Case and her team at her facility for a 4 – 6 week period and then you will be trained by Julie. Napoleon above is an example of the companion dog training.
Therapy Dog Training
This is a course for hospitals, rehab treatment centers, assisted living homes, funeral homes, nursing homes, court rooms, police, psychiatrists, therapists, lawyers, doctors, schools and teachers who will be taking their dog to work with them. They will learn advanced training as well as specialty areas in which your dog will be prepared to work as a certified therapy dog. At the end of your dogs training they will be fully certified as a therapy dog and your training with Julie is included in this program. After receiving this training you will be a certified therapy team.
This is an 8 – 12 week course for your dog to live with Julie Case and her team learning how to become a fully trained certified therapy dog. At the end of the training you will team up with Julie and her staff to train with her and your puppy to become a certified therapy team.
Service Dog Training
This is a course for dogs trained to assist people with disabilities. Julie Case works with each dog individually to select, raise, and train a dog for your specific needs. The needs that fall into the service training category may be: mobility, wheelchair assist, depression, flight risk, diabetic alert, sleep apnea, Autism, PTSD, TBI, Balance support, stress coping, anxiety, learning disabilities, and more.
Each dog is tested between 7 – 8 weeks of age to see if they would be a compatible dog for your family. At Meadow Park Labradoodles, we strive to produce dogs with the temperament for service work. Once the puppy passes, Julie then selects them specifically for the job they will be doing. Training begins at 8-9 weeks of age.
At the end of the course you will go through a handler training and certification course. You will have a full public access service dog tested up to federal law standards. Your service dog equipment is included in this package.
This course takes your puppy through 4 – 6 months of training with Julie Case and her team at Ultimate Canine followed by training with you in your home.
Who is Julie and Why is she qualified to train my dog?
Julie comes from a family of dog trainers and has been training dogs herself for over 20 years. Julie is Master Certified to train:
service and therapy dogs
police dogs
bomb dogs
obedience training
problem behaviors
house manners
and just about anything you want your dog or puppy trained for.
Julie has two thumbs up from all of her clients.
Julie owns Ultimate Canine, LLC in Westfield, Indiana. Julie has an impressive resume with a vast range of experience. She works with people all over the country.
For more information on any of the training above contact Julie Case at 317-443-6019.