Come see the available puppies at our open house! Bring your family to meet us and the puppies. You will be able to ask questions which can help you with choosing the right puppy for your family and in training at home. Check each litter for open house dates!
What an awesome year it has been. We have added English Labs to our program! Our service & therapy dog program has been a huge success and is growing by the day! We now offer professionally trained pet companion dogs to our program, our therapy dog program has grown by leaps and bounds and have launched our diabetic & siezure alert dog program in addition to our already well developed service dog program for flight risk, sleep apnea, Autism spectrum, PTSD, TBI, Balance support, hearing, stress coping, anxiety, learning disabilities etc….. Of course we still have our regular pet program. Be reminded that the service & therapy dog prospects will be chosen from each litter first at 8 weeks of age and then our pets will be chosen in the order deposits were put in. Be assured that each litter bred is being bred for the best therapy and service lines that we ourselves have bred or chosen especially for this temperament so that makes our pet puppies extra special.
We reserve the right to retain potential breeding stock puppies from any litter. We reserve the right to deny anyone one of our puppies. We also reserve the right to change mating pairs based on circumstances.
We will only have 2 or 3 litters of Lab puppies scheduled for this year. Your puppy application and deposit is what will reserve the puppy you want until your puppy is ready to go home.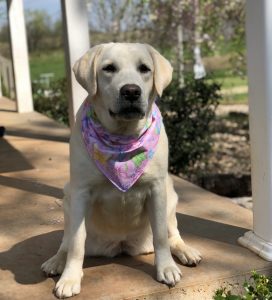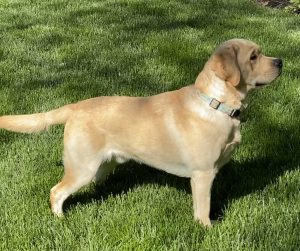 Diamond & Gunner (above) have honeymooned and pregnancy has been confirmed by ultrasound!  These are AKC yellow English labs out of champion bloodlines imported from the best lines all over the world personally chosen for service and therapy work by our trainer Julie Case. I can't wait to see how many of these guys will grow up to be service and therapy dogs! If you are interested in one of these guys for service, therapy or just a pet contact Pat Simpson at 765-993-3218 We take calls 7 days a week from 9am- 9pm. We are on Eastern standard Time. Puppies due around Aug 3rd and going home or in training end of Sept. or beginning of Oct. 2021. See our facebook page for updates & pictures!