Meadow Park Labradoodles & Labradors, LLC is located in the eastern Indiana countryside and owned by Pat Simpson.  We care very deeply about the well-being of our dogs for future generations.  As a result, we have all our breeding stock tested genetically, hips and elbows are scored by the OFA, and eyes are certified. Each of our breeding dogs are specifically selected for the best temperament for service and therapy work so our puppies have the best chance at being happy doing this work that helps to enrich so many peoples lives. Our moms and dads live in guardian homes so each doggie parent is a much loved member of their family. They will come to us for breeding and moms will come to us to have their puppies and at the end of their career they stay with that family forever.
Our puppies are raised specifically for service and therapy work by special puppy raisers that work with the puppies every day from birth on up until our trainer evaluates them at around 8 weeks of age. They start with early neural stimulation at 3 days old and go on to add touching the pups all over their body and settling the pups on their back. We play sound tracks to get them used to different sounds, lure them over obstacles with food for training purposes, have them meet at least 200 different people and go to day cares, nursing homes, ball games, schools, hospitals, the mall, church functions and many other places all before 8 weeks of age. This gives our puppies the best start in their life whether they go on to be a service dog, a therapy dog or just a much loved family pet. Just like every child won't become a doctor or lawyer or artist or musician, the same goes for puppies as some are cut out for service work, some are cut out for therapy work and some are cut out to be the best loved family pet. That is why our trainer Julie Case will evaluate each puppy at 8 weeks old and will tell us what each puppy is best cut out for so you know you will be getting the right puppy, temperament wise, for your family's lifestyle.
Meet the people behind the scenes that help to make your puppy the best it can be!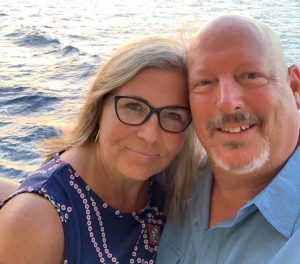 Emily & Randy Eskew wear many hats in our program. Emily acts as my assistant at times, is the head of our puppy raising program and both of them are our puppy raisers. Here is some info from Emily:
"We are Randy and Emily Eskew and we  started researching Australian Labradoodles almost 11 years ago when we came across Pat and Meadow Park. We have always had poodles, spaniels and Labrador retrievers in our family and loved the fact that the Australian Labradoodles are a perfect combination. We became a guardian for our Rudy from Meadow Park and fell in love immediately with his lovable personality. Little did we know that a few years later, after moving to the country, we would be raising Meadow Park puppies for service and therapy. We are grateful that we can babysit our grand babies daily and raise these puppies alongside them!!
  At first, it was all about the excitement of bringing new puppies into the world and hoping they would go on to do great things.  Then, during our socialization outings, we realized just how much they were helping others in the community! Seeing the faces on nursing home residents, that have been depressed, light up as they snuggle a puppy. Watching as a small child, that is normally shut down, respond and participate in class for the first time. And, seeing the tears in the eyes of Doctors, nurses and first responders, in an inner city hospital, as they cuddle a puppy and relax after a stressful shift.
What a blessing it has been to us personally, working with the puppies and watching them become confident and strong. As we raise these little ones, we pray that each of these puppies goes on to make a difference in every life they touch."
.
Vickie Buckman is a very dedicated puppy raiser for us. She goes above and beyond to raise these puppies to be the best they can be! Here is some info from Vickie:
"I am very excited to be a part of the Meadow Park family. I fully enjoy raising puppies- watching them grow, develop, and learn to be wonderful service, therapy or companion dogs is a blessing to our lives. I have always been an animal lover and there have been dogs in our families for as long as we can remember.  I grew up on a small farm in central Kentucky and throughout my husband's Air Force career, we dreamed of returning to the farm upon retirement.  Little did we know that the decision to train a puppy for Blessings Unleashed would eventually lead me to wanting a therapy dog for my school library. Finding Meadow Park Labradoodles brought Lulu into our lives – we were a guardian home.  I had a great time training Lulu and seeing her share her puppy love at my high school.  Soon after I retired, Lulu had her first Litter of puppies.  Let's just say I was so in love with the entire experience of whelping, raising, training, socializing those puppies that I wanted to do it again (and again, and again)!  My favorite part of being a puppy raiser is that I have the opportunity to give each puppy the love and support he or she needs to begin his life journey. Watching the puppies go to their forever homes and bringing joy to other people's lives is also a great experience."
.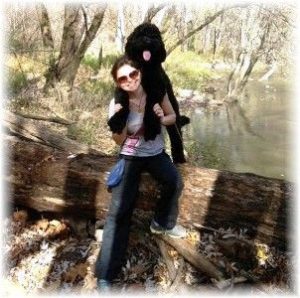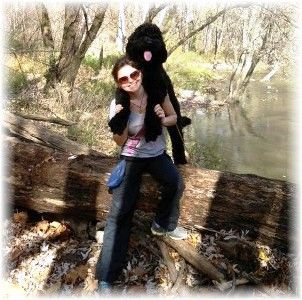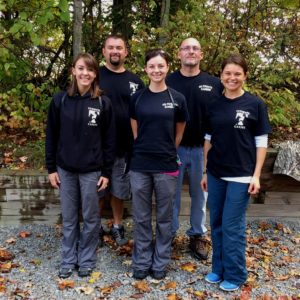 JUlie Case is the owner of Ultimate Canine, LLC training center. We are honored and excited to be working exclusively with Julie and her team at Ultimate Canine, LLC. Julie Case is a certified master dog trainer that offers all levels of dog training from family companion to therapy & service dogs. She is the one that evaluates all our puppies at 8 weeks of age and lets us know which puppies will make the grade for service and therapy dogs. Julie comes from a family of dog trainers and has been training dogs herself for over 20 years. Julie is Master Certified to train: service and therapy dogs, police dogs, bomb dogs, obedience training, problem behaviors, house manners and just about anything you want your dog or puppy trained for.